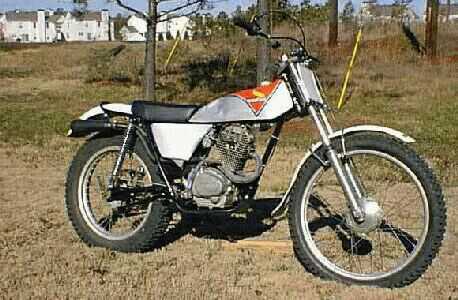 The Beginning
This TL125 was bought for two definite purposes: to teach my wife to ride and to participate on the AHRMA modern classics -class. The first purpose it has served very well, IMHO it is very difficult to find less intimidating and more forgiving bike for a complete novice. The first season is still to come, so don't know about the vintage trials part yet (I don't expect awful lot, despite a good deal of motorcycle racing I am a complete novice in trials).
When I got the bike it was in the condition you see on the photo above. Cosmetically pretty good (except some scrathes and dings in the tank), but the engine made a horrendous noise. After opening it up I realized that the cam chain tensioner had been screwed in all the way and the chain was really loose (the tensioner works in a really counter intuitive way). Cam chain had jumped one tooth, and the cam sprocket was in a sorry shape. Luckily the crack sprocket seemed to be OK, and after installing a new chain and cam sprocket everything has worked fine.
The worst weakness of the engine must be the infamous 4-stroke off-idle cough and hesitation. When suddenly opening the throttle off of the idle position the engine "coughs", hesitates for a while and then goes (well, goes as well as you can expect from 4.5 HP). This feature certainly rewards a smooth riding style. Because pumper carbs are not allowed in the AHRMA "modern classics" class (although I think they should be) the only solution is adding more displacement.
---
The Engine Work Begins
So this is where the story of the Fire Breathing TL begins. I have decided to increase the engine displacement by using another old Honda cylinder and piston, shooting for 160+cc. I understand this was a common thing during the mid-70s, and serious trials TL 125s were running 175 to 200 cc engines. I have decided not to install a stroker kit this time. I believe 200cc to be the absolute maximum you can get out of a TL125 engine. It requires a +65mm bore and about 10mm increase in the stroke.
Increasing the bore over 59 to 61mm (depending on how daring you feel) requires bigger liner than the standard cases will allow. Changing the barrel also becomes a necessity. Suitabel donors can be found from many old and new Honda engines, such as XL, XR and some 3-wheelers. I found an old barrel, and decided to go all the way to 65.5mm bore (I believe the biggest you can get without some kind of custom piston work). I decided to use Hoyt McKagen of Best MC Repair (see the TL125 parts page for more details) for the machining work.
---
The First Competition
And of course in the meanwhile the beginning of the STRA vintage season had crept up on me. The first round was held March 6 in Roberta, GA. Luckily for me, the guy who had originally introduced me to trials in Georgia had a spare TL125, and was thus obligated &lt grin &gt to loan it to me for the competition (thanks, Charlie). The bike actually goes under the name "suckerbike" because it has "suckered" so many innocent souls into trials.
The bike was not in the best possible condition. I brought my own shocks to the event site, but then decided not to change them and just run with the MX shocks already on the bike. These shocks must have come from some pretty heavy bike, being fairly light weight myself I got exactly 0" of sag.
The event itself was a lot of fun. Did the typical beginer mistakes, such as trying to run a wrong line, but generally had a lot of fun. During the day when the weather warmed I had to continue trying to adjust the carb, in an attempt not to collect too many 5's due to stall. Ended up running nice 2000 rpm "idle" by the end of the day. To my surprise I ended up finishing second overall in the mixed C class (first among bikes that would classify as AHRMA moderna classics or older. I was also the only participant running a four-stroke bike.
---
The Engine after Modifications
OK, the engine is in one piece and I spent part of the easter weekend putting the whole bike back together. Didn't have time to get it for a real ride, but puttered around for a while in the woods behind the house. THE FOUR STROKE OFF-IDLE COUGH IS GONE! Engine responds to gas much better than before, and responds to gas almost immediately (with a nice bark). Here is a quick list of my main observations:
As already mentioned, the off-idle hesitation is gone! The engine modifications did pretty much what I was told, even more so than what I expected.
With bigger displacement and higher compression the days of lazily starting it are over: kickback can be pretty vicious even from this small thumper (definitely taking off the right footpeg return spring now).
One can still stall the engine at very low speeds, especially after very slow closed throttle turns: stalling requires just a little bit of rear brake. I will experiment retarding the ignition a tad (or it may have too much advance, I just set it based on old "timing scratches").
Much beefier sounds.
So generally the work was a success, and definitely worth doing. Kickback is not really unexpected, and just something any 4-stroke rider has to learn to deal with. And the very low speed stalling is not that bad, the bike used to stall much more (and as said, I may have the ignition set too advanced or have been overzealous in reducing the idle speed).
---
The Engine after Modifications, part 2
OK, now I have more experience with the big bore kit (have been to one competition, came away with 1st place). The difference in engine response still amazes me. IMHO nobody should try competitive riding on a TL without one. Practically no "advance" is required to lighten up the front wheel, and there is enough power to anything I dare to try.
Generally any big bore kit will increase the compression ratio, exact amount depends on the piston used. I have a piston from a Honda pull start 3-wheeler, gives little bit smaller increase in CR than "regular" pistons. I retarded the ignition and run only slightly over 0.02" spark plug gap (0.6mm). This makes the engine less "snatchy" at low rpms, much more difficult to stall. I can't notice any loss of top end, don't have any hills where I could try 4th gear flat out hill climbs. Also the kick back tendency is practically gone.
So overall I'm 100% satisfied. Power and engine response improved more than I had even dreamed of. Engine braking naturally goes up, this takes some getting used to but feels OK after one practice session.
---
Back to TL125 homepage
| | |
| --- | --- |
| Last modification February 16, 2003 | |