Honda TL125 Parts and Resources Page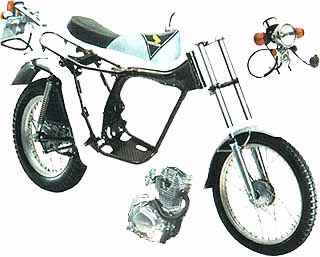 This page lists businesses that have Honda TL125 related parts and/or services available. Unless otherwise noted I have either personally used all of these or have received multiple references. If you know of a resource not mentioned here or want to correct any information please go to the feedback page or use e-mail link at the bottom of the page.

Prior to modifications I'd check the Honda TL125 FAQ for more information.
---
B&J Racing Products
Big bore kits (150cc), head flowing, various vintage and modern trials parts and accessories, almost any part, accessory or work you would need for the TL (new, aftermarket and used parts, fork reconditioning etc. etc.). B&J Racing also makes custom control cables and custom foam air filters.
Telephone: +1-615-789 5956
Fax: +1-615-789 5725
Address: 1204 Big Bartons Creek Road, Dickson, TN 37055
e-mail: b.j.racing@worldnet.att.net
Web-page: http://www.bjracing.com
---
B and H Specialties
B&H Specialties has been family owned and operated for 30 years. We manufacture professionally sewn replacement seat covers for Japanese motorcycles, scooters, ATVs and trail bikes, including some vintage and miscellaneous (according to their web pages they make seat cover for the TL125).
Telephone: +1-817-280 9370
Fax: +1-817-268 6054
Address: 1208 Simpson Drive, Hurst, Texas 76053-4528
e-mail: motorcycleseatcovers@msn.com
Web-page: http://www.motorcycleseatcovers.com/index.htm
---
Best Motorcycle Repair
Hoyt McKagen has passed away. His friendship, advice and services will be sorely missed.
---
BPS Engineering
BPS = Brown Paul Stuart has all kinds of nifty stuff for the TL. Definitely worth a look if you are in Europe.
Telephone: +00 33 (0) 565536144, +(0)6 87 38 35 30
Address: 258 rue du Dr SEGALA, 46000 CAHORS, France
e-mail: msm.bb@wanadoo.fr
Web-page: http://www.bps-eng.com/
---
Carburetor Parts Warehouse
Name says it all.
Telephone: +1-216-524 1599
Address: 7777 Wall Street, Valley View, Ohio 44125
e-mail: Sales@carbparts.com
Web-page: http://www.carbparts.com/
---
David Silver Spares
Parts supplier in the UK. They also manufacture special exhaust systems for the TL.
Telephone: +44 1728 833020
Fax: +44 1728 832197
Address: Unit 14, Masterlord Industrial Estate,Station Road, Leiston,Suffolk, IP16 4JD,United Kingdom
e-mail: sales@davidsilverspares.co.uk
Web-page: http://www.davidsilverspares.co.uk/
---
Motorcycle Microfiche Cards
Microfiche cards for various motorcycles, including TL125. Check also about brochures, owners manuals etc.
Telephone: N/A
Address: 12664 Julington Pines Lane, Jacksonville, Florida 32223
e-mail: c.hollis@ilnk.com
web-page: http://www.angelfire.com/fl/cyclemicrofiche/
---
Powroll Inc
Performance stroker cranks, big bore kits, head porting.
Telephone: +1-541-923 1290
Fax: +1-541-923-5637
Address: 4211 SW Mountain Pkwy, P.O.Box 920, Redmond, OR 97756
e-mail: mail@powroll.com
Web-page: http://www.powroll.com
---
Sammy Miller Motorcycles
The original TL tuner. Lots of parts, spares and accessories. They also manufacture new fiberglass TL125 tanks and side panels as well as special exhaust systems.
Telephone: +01425 616 446
Fax: +01425 619 696
Address: Bashley Manor, Bashley Cross Road, New Milton, BH25 5SZ, England
e-mail: info@sammymiller.co.uk
Web-page: http://www.sammymiller.co.uk/
---
Speed & Sport
Speed & Sport has commissioned a batch of fiberglass replicas of the original TL125 fenders. They run $100 for the pair, and are now in stock. They also have in stock grey plastic universal fenders, the Sammy Miller front fender mount, and various other trials accessories (h'bars, grips, twistgrips, chain tensioners, tires, etc.)
Telephone: +1-562-490 0012
Fax: N/A
Address: N/A
e-mail: spdsport@gte.net
Web-page: http://www.speedandsport.com
---
VMX
Various spare parts (brake shoes, fork seals, sprockets, tires, bars, grips,Sammy Miller products, etc.) for the TL
Telephone: +1-703-707 8692
Fax: +1-703-787 0885
Address: 101 H Executive Drive, Sterling, VA 20166
e-mail: vmx@vintagemx.com
Web-page: http://www.vintagemx.com/index.htm
---
Back to TL125 homepage
| | |
| --- | --- |
| Last modification June 17, 2004 | |
Honda TL125 Parts and Resources Page